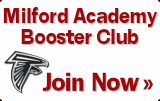 Milford Academy:

The place LeSean McCoy

shaped his NFL career
Read more...

By: Matthew Coller

WGR550 Sports Radio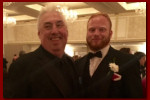 Tyler Matekevich receives the


Chuck Bednarik Award

the Maxwell Awards

Football Factory:

Milford Academy provides

pipeline from New Berlin to

Syracuse, producing 14

players in last 9 years
Read more...

By: Stephen Bailey

The Daily Orange


Powered by Benchmark Email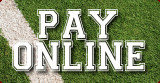 MILFORD ACADEMY BOOSTER CLUB

★ Former Players, Alumni and Friends ★
Thank you for your interest in supporting Milford Academy and the Milford Academy Football Program. Former and current players, alumni and friends have helped maintain Milford Academy's number one position in PG football in the Unites States for the past 10+ years.



This marks the Falcons 10th consecutive winning season (W-94 vs. L-23 .803) in their 10 year anniversary in New Berlin, NY. Milford Academy has launched many successful football careers since moving to New Berlin, NY in 2003, including 6 NFL players (LeSean McCoy, 2x All-Pro and Terrance Knighton, Superbowl Starter) and 250 1-A and 1-AA Players.



LeSean McCoy, Eagles
2-Time All-Pro


Terrance Knighton, Broncos
Defensive Line


Shonn Greene, Titans
Doak Walker Award Winner


Craig Cooper
University of Miami

Milford Academy has averaged over 18 players in college bowl games each year over the past 10 years, including 23 players in 15 bowl games in 2013.



We have had many All-American football players, including:


4 D-1A All-Americans:


Fred Russell - University of Iowa, St. Louis Rams



LeSean McCoy - University of Pittsburgh, Philadelphia Eagles (2X) All-Pro



Shonn Greene - University of Iowa - also Doak Walker Award Winner, NY Jets & Tennessee Titans



Tyler Matakevich - Temple University All-American


1 D-1AA All-American:


Dominique Williams - Wagner University All-American



I welcome you to join the Milford Academy Booster Club with a $100 tax-deductible donation today.



Gifts from alumni, parents, grandparents, and friends are vital to sustaining the quality of our campus, academics and football facilities, ensuring that Milford Academy continues to offer each student athlete an enriching, rewarding and successful experience in the classroom as well as on the field.



Our history of former players is the finest in the United States. We are second to none. Help us keep your school, Milford Academy, the number one PG football program in America.


| | |
| --- | --- |
| Donate $100 | Donate A Different Amount |


Thank you for your support,

B.C.
Bill Chaplick
Head Football Coach




Go Back