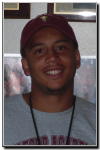 DEFENSIVE COORDINATOR
DEFENSIVE BACKS COACH

Originally from Bayonne, New Jersey, Coach Hazelwood is entering his third season as coach at Milford Academy. Dwight will assume the Defensive Coordinator job this season and will continue coaching the secondary. He was a 4 year player (3 year varsity) at Springfield College in the defensive backfield. While there, he won 2 ECAC Championships and 1 Empire 8 trophy from 2003-2007. Coach graduated with a double major in Business Management and Finance and a double minor in Marketing and Economics. Coach Hazelwood is carrying a full teaching load and is a proctor on the third floor. Welcome back Coach!